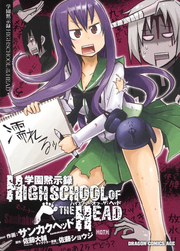 Highschool of the Head is a comedy manga series that is a parody of the original Highschool of the Dead manga that was written by Daisuke Sato and illustrated by Shouji Sato. The first chapter was published in Fujimi Shobo's Monthly Dragon Age on September 2006. The Highschool of the Head series is illustrated by Sankakuhead and published by Fujimi Shobo's Dragon Comic Age. Daisuke Sato is credited as the original author and Shouji Sato is credited as character designer. It was released May 6th, 2011 and priced at ¥609.
Ad blocker interference detected!
Wikia is a free-to-use site that makes money from advertising. We have a modified experience for viewers using ad blockers

Wikia is not accessible if you've made further modifications. Remove the custom ad blocker rule(s) and the page will load as expected.