F-4EJ



Type

Fighter Jet

Owner

Japan Self Defense Force
The plane was deployed a day after the outbreak or "Z-day" began in the city. This aircraft is first shown flying over Tokonosu City, taking photos of the surrounding area for some unknown reason, most likely for military assessment. 
Overview
the F-4EJ was used by the Japanese military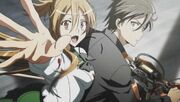 Plot
As Takashi and Rei cross the Bridge on their way toward the East Police Station, this aircraft strafes the side of the bridge and takes a snapshot of the two survivors as it passes
Trivia
One of the pilots in the jet waves back to Rei who was waving to them.
REAL WORLD : The F-4EJ is a Japan Air Self-defense force fighter/recon version of the US retired F-4E Phantom II
Ad blocker interference detected!
Wikia is a free-to-use site that makes money from advertising. We have a modified experience for viewers using ad blockers

Wikia is not accessible if you've made further modifications. Remove the custom ad blocker rule(s) and the page will load as expected.