F-4EJ



Type

Fighter Jet

Owner

Japan Self Defense Force
The plane was deployed a day after the outbreak or "Z-day" began in the city. This aircraft is first shown flying over Tokonosu City, taking photos of the surrounding area for some unknown reason, most likely for military assessment. 
Overview
the F-4EJ was used by the Japan Air Self-defense force.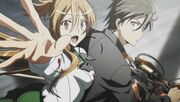 Plot
As Takashi and Rei cross the Bridge on their way toward the East Police Station, this aircraft strafes the side of the bridge and takes a snapshot of the two survivors as it passes
Trivia
One of the pilots in the jet waves back to Rei who was waving to them.
REAL WORLD : The F-4EJ is a Japan Air Self-defense force fighter/recon version of the US retired F-4E Phantom II