Ad blocker interference detected!
Wikia is a free-to-use site that makes money from advertising. We have a modified experience for viewers using ad blockers

Wikia is not accessible if you've made further modifications. Remove the custom ad blocker rule(s) and the page will load as expected.
Democracy Under the DEAD is the third episode of the Highschool of the Dead anime series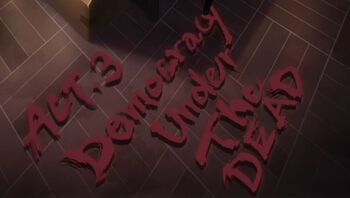 Statistics
Edit
Original Air date: July 19, 2010
Opening Song: "Highschool of the Dead"
Closing Song: "Return to Destiny"
Manga Chapters: Act.3
DVD/BD Release Date: October 27, 2010
The survivors are shocked to learn that the zombie pandemic has spread worldwide. After encountering another group of survivors, Takashi tests a theory on avoiding the zombies based on how they can only react to sound. However, when one of the survivors accidentally makes a sound, they have to fight through a horde on the way to the bus, losing some survivors in the process. When they spot another group of survivors approaching, Rei recognizes one of the teachers, Mr. Shido, and is hesitant about letting him on board. After breaking out of the school, Rei becomes defiant about Shido appointing himself as the leader and runs off the bus. As Takashi goes after her, a bus filled with zombies crashes and traps them in a tunnel, forcing them to meet up with the other survivors later. After defeating a biker zombie, Takashi and Rei find it's motorbike and head towards the city.
Characters in order of appearance
Edit
It is proven that zombies cant see but can pinpoint where somebody is using sound.