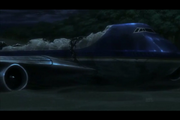 Air Force One
is a Aircraft used for President of the United States and the other policitals.
Air Force One is the official air traffic control call sign of a United States Air Force aircraft carrying the President of the United States. In common parlance the term refers to those Air Force aircraft specifically designed, built, and used for the purpose of transporting the president. This aircraft is a prominent symbol of the American presidency and the power it holds. In the Highschool of the Dead universe, They somehow manage to get inside Air Force One midflight, infecting the First Lady, the President, and the Others Politicals. The wreckage of Air Force One is shown in the Episode 11. 
Ad blocker interference detected!
Wikia is a free-to-use site that makes money from advertising. We have a modified experience for viewers using ad blockers

Wikia is not accessible if you've made further modifications. Remove the custom ad blocker rule(s) and the page will load as expected.